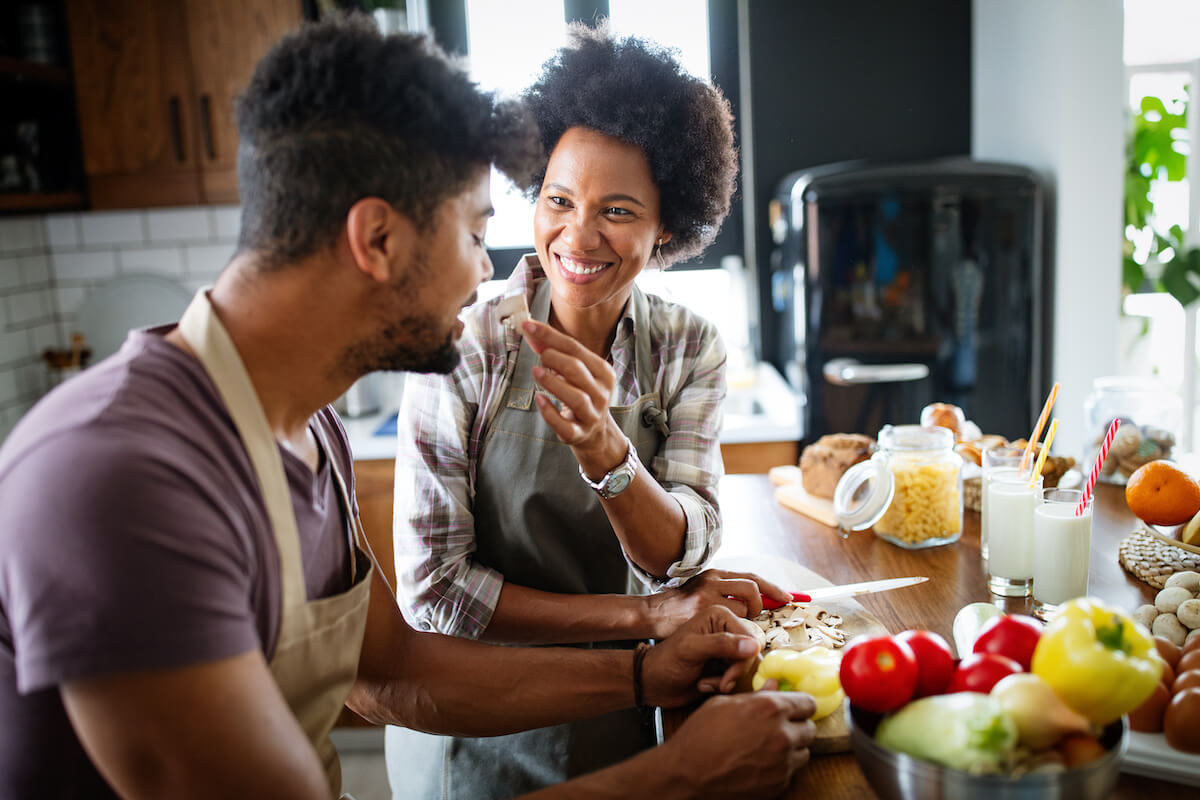 25 May

Quick and Easy High-Protein, Low-Carb Meals to Try

High-protein, low-carb meals can help you build muscle, lose weight, and get in shape (when paired with a regular exercise plan). But getting your macros on point can feel impossible if you don't have the right meal plan.

This guide includes 11 high-protein, low-carb meals to help you keep your diet on point to reach your fitness and weight loss goals. Most of these are easy enough to cook as a weeknight dinner or quick snack, especially once you've made them a few times. It's time to get creative in the kitchen.
How to Count the Macronutrients In a Recipe
Knowing how to count the macronutrients in a recipe will help you accurately determine how many grams of carbohydrates, protein, and fats each serving contains. This method also allows you to determine the calorie count of each serving you prepare.
Here's how to find the macronutrients in any recipe:
Use a spreadsheet, notebook, or calorie counting app (e.g.,

MyFitnessPal

) to write out each ingredient in your recipe and the amount used. Tracking ingredients in grams using a food scale will make this more accurate.
Head to

FoodData Central

(aka the USDA Nutrient Database) and search for each individual ingredient. Record the calories and nutrients for the correct amount of each ingredient. If you're tracking net carbs, you'll also need to include the amount of dietary fiber in each recipe.
Add up the calories and nutrients from each ingredient to find the recipe's total for each category you're tracking (calories, carbs, protein, fats). If you need to determine net carbs, subtract the grams of fiber from the total grams of carbs in the recipe.
Divide the nutrient and calorie totals by the number of servings in the recipe. For the most accurate portions, use a food scale to divide the recipe into the correct number of servings, so each one weighs the same.
Some apps and spreadsheet layouts can complete most of this process for you. Then, all you have to do is record and weigh the ingredients and divide the recipe into equal portion sizes.
Note: The term "net carbs" refers to the total carbohydrates your body can absorb from the meal. They do not include fiber because your body cannot absorb fiber, and it doesn't impact your blood sugar levels.
Safety First
If you're unsure how many calories you should be eating or what your nutrient ratios should be, consult a doctor or dietitian. Minimum caloric intake is 1,500 for men and 1,200 for women, but these requirements are higher for different activity levels, weights, and lifestyles.
Your health professional can also advise you on how to approach your high-protein, low-carb meals and overall diet. Low-carb and ketogenic diets (aka keto diets) often call for between 20 and 50 grams of carbs per day, and they focus on high-protein meals for satiety and nutrition. These diets aren't right for everyone, and it's important to protect your health.
High-Protein, Low-Carb Meals
These breakfast, lunch, snack, and dinner recipes will help you hit your macros for an easy low-carb diet. Many of them are also low-calorie and can be modified to help you hit your target macros.
If you need more grams of protein in any recipe, you can always double the primary source of protein. For example, if you make a chicken recipe that calls for one chicken breast, you'd add two to double the protein content. You can also swap any protein in a dish for one you prefer (for example, swapping chicken for beef, turkey, or even tofu).
Keep reading for tasty breakfast, lunch, snack, and dinner ideas to keep you on track with your macros.
For Breakfast: Bacon, Eggs, and Mashed Avocado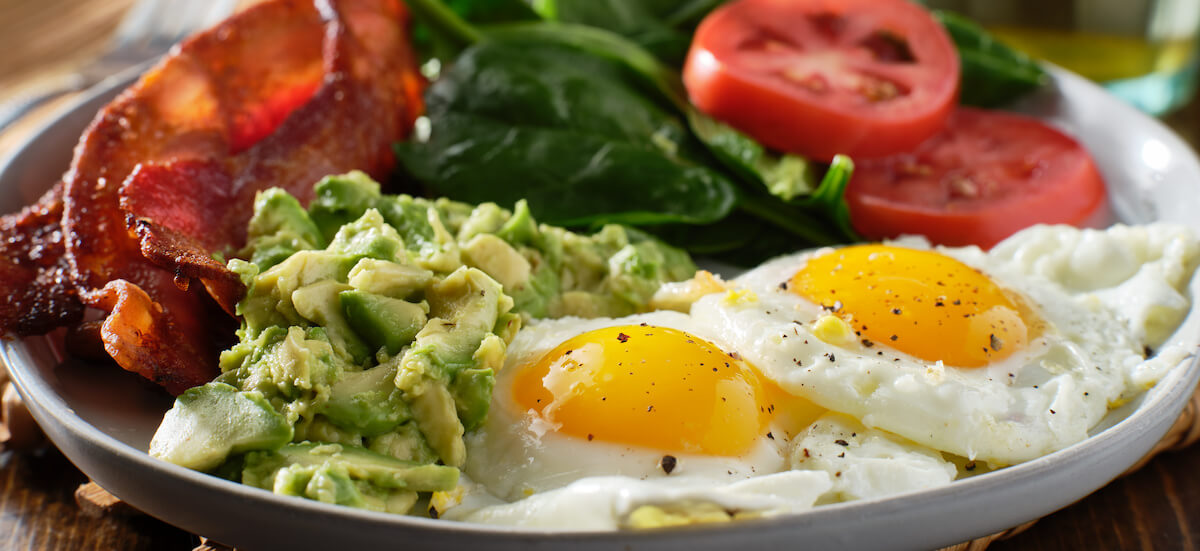 For a classic breakfast, serve two or three eggs with a few slices of bacon and a side of mashed avocado. Add some fresh tomatoes and baby spinach on the side to make your breakfast more nutritious and filling.
Swap the fresh tomato slices with salsa if you'd like a Mexican-style twist, and add more eggs if you'd like to boost the protein content. Eggs are an excellent option for making high-protein recipes more filling and nutritious. Avocados, bacon, and eggs are high in fat, so remember to track your intake to keep your healthy recipes within your target macros. Of course, even healthy fats should be eaten in moderation.
For Lunch: Chicken Breast With Veggies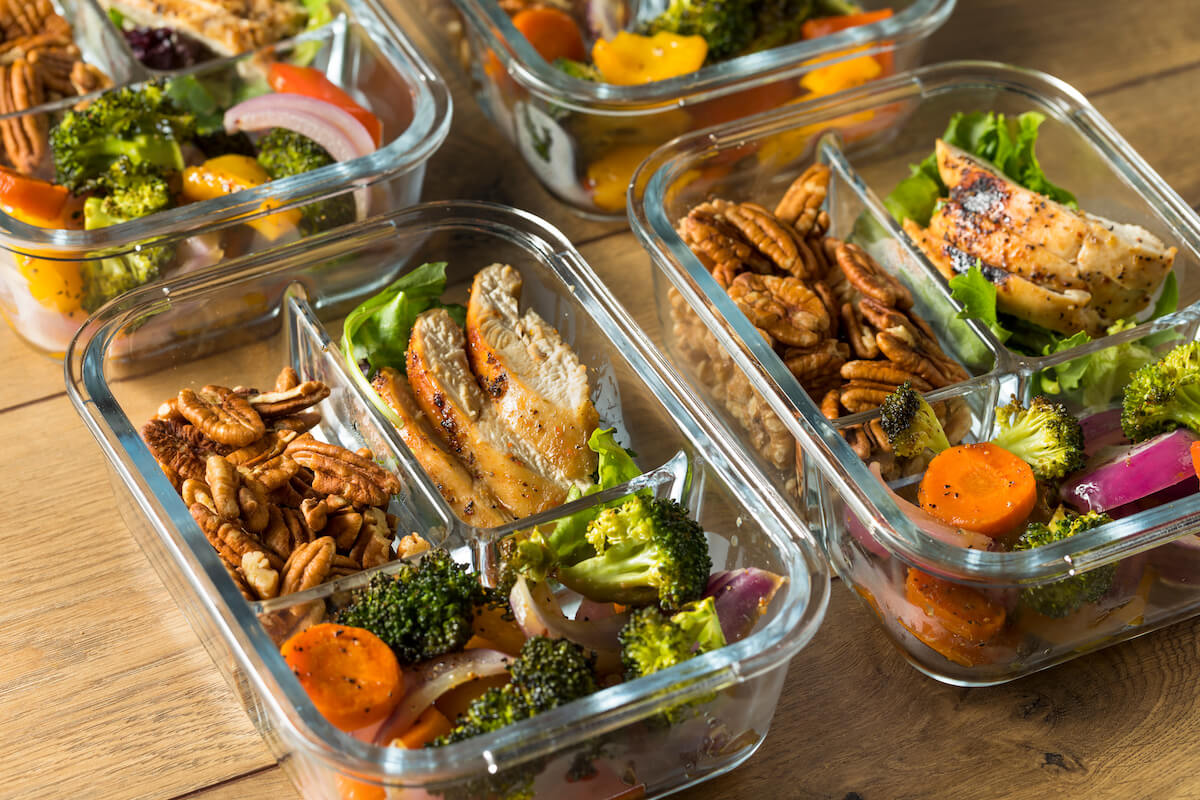 Chicken breast with veggies is a simple meal prep option that's great for nutrition on the go. You can prepare multiple servings over the weekend to have healthy lunches ready all week.
Roast, steam, or pan-fry some chicken breasts (you can also use an air-fryer) and pair them with veggies of your choice. Broccoli, carrots, onions, sweet potatoes, and green beans are just some of the many options. For extra calories, try adding a side of nuts or topping your chicken breast with feta cheese.
To cut back on prep time, chop your veggies and steam ahead of time. You could also try roasting them in the oven on a sheet pan until done.
For a Snack: Celery With Peanut Butter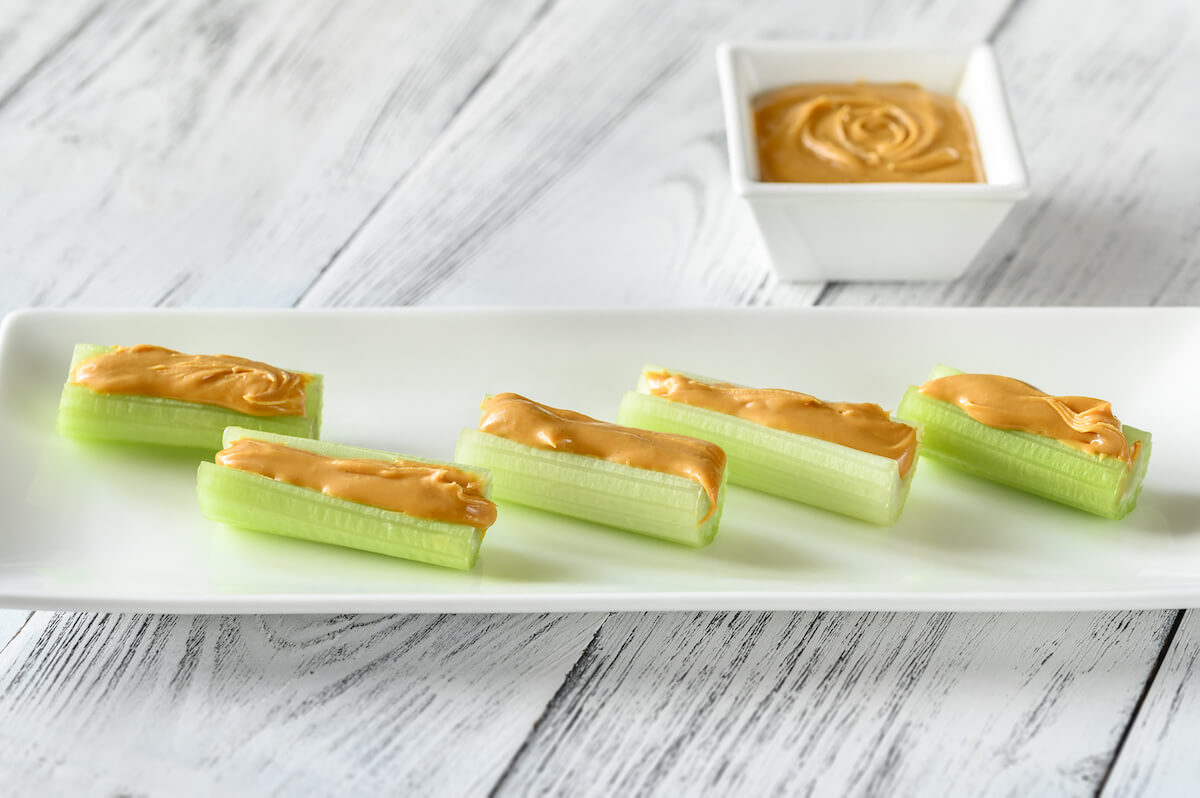 You can't go wrong with the classic celery and peanut butter duo. It's easy to prepare it in advance since celery will remain crispy even after chopping it and adding the peanut butter. Just cut stalks of celery into finger-length sections and top them with no-sugar peanut butter.
If you don't like peanut butter, try topping your celery with cream cheese instead. And if you end up with room for a few extra carbs at the end of the day, you can turn this into a healthy dessert. Poke some dark chocolate chips or unsweetened raisins into the cream cheese or peanut butter and enjoy.
For Dinner: Meatballs With Zucchini Noodles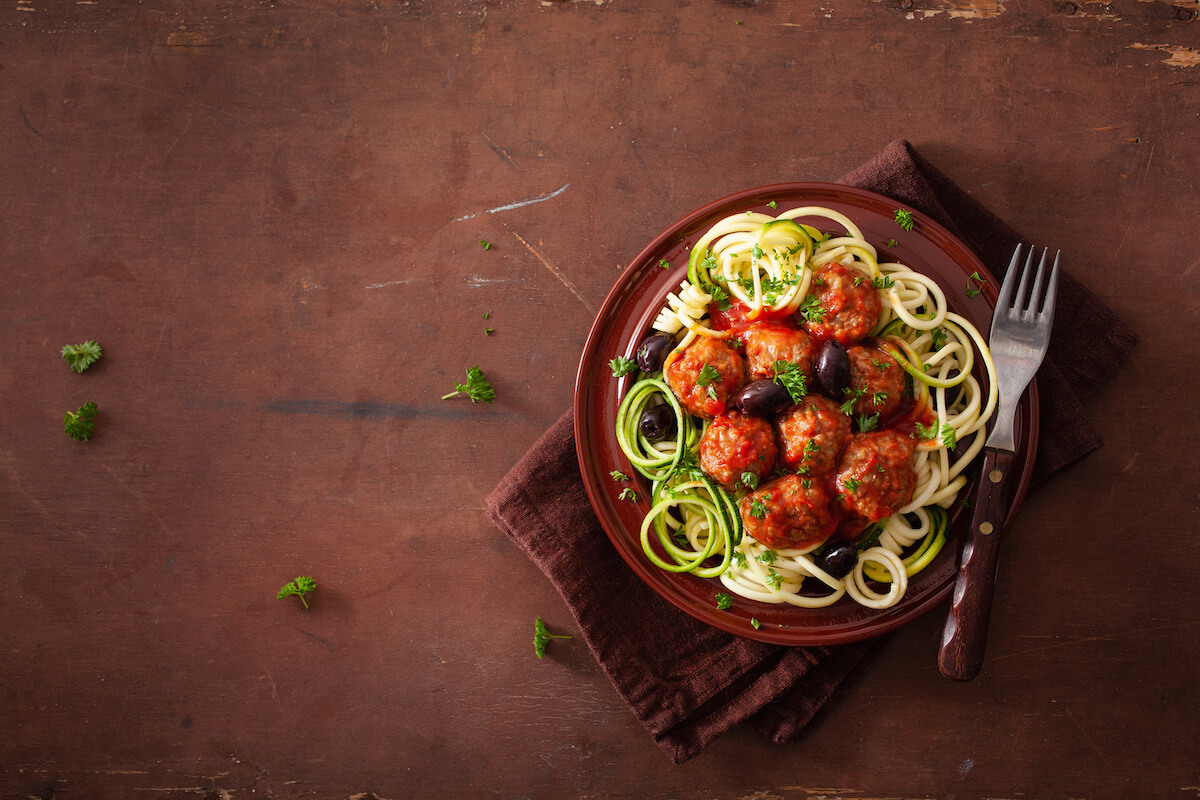 Zucchini noodles are a low-carb alternative to traditional pasta. Serve meatballs (making them with ground turkey will yield fewer calories than beef) over raw or gently steamed zucchini noodles tossed with pasta sauce or pesto. Top your dish with shredded parmesan or mozzarella, black olives, and chopped fresh basil for extra flavor.
If you're not a zucchini fan or don't have a spiralizer, use spaghetti squash instead. Spaghetti squash is simple to prepare — just cut it in half and place it on a sheet pan with salt, pepper, and a thin coating of olive oil. Bake it in the oven at 400 degrees Fahrenheit for 40 minutes or until it's fork-tender.
Anytime Meal: Protein Shake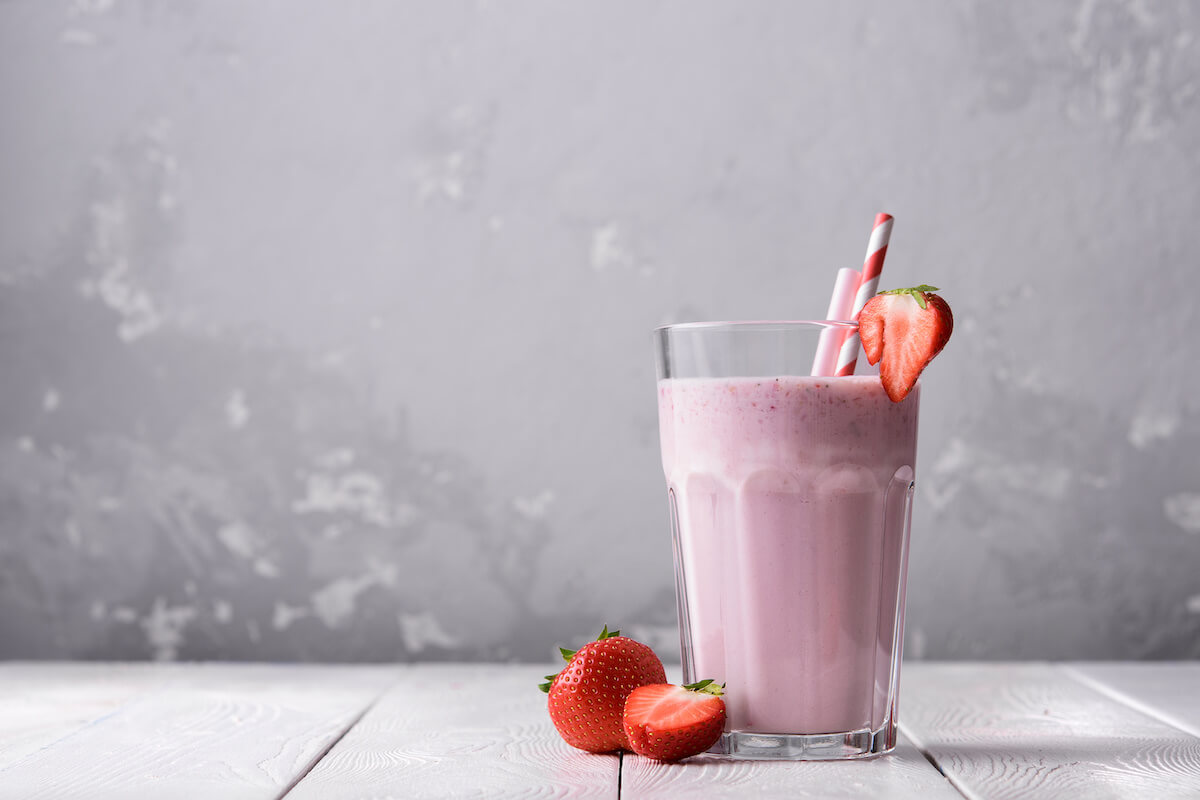 Balancing responsibilities for work, nutrition, exercise, family, and more isn't easy. When there's no time to make food, opt for a protein shake over fast food or something prepackaged. Protein powders are usually low-carb, and you can add as much protein to your meal as you need.
Keep high-quality protein powder on hand and blend it with milk or water for something super fast. Then, add frozen berries, ice cubes, or even frozen cubes of coffee to thicken your shake. You can also consider cocoa powder, vanilla extract, cinnamon, or other tasty add-ins to customize the flavor to your liking.
A few high-quality protein powders to try:
These protein powders use Ingredient Optimized protein, designed for higher bioavailability. This ensures that your body can use all of the protein in the powder and provides you with higher-quality nutrients.
Other Recipe Ideas
It's easy to get bored eating the same thing all the time, so you'll want to change it up every now and then. Here are some more high-protein, low-carb meals to add to your rotation:
Buddha bowl: Buddha bowls work well for meal prep — they consist of small portions of several foods, and they're usually vegetarian. You might add a small amount of quinoa or brown rice and plant proteins like chickpeas and tofu. Include veggies like asparagus, pea sprouts, broccoli, snap peas, and anything else you enjoy. While Buddha bowls are usually vegetarian, you can add any protein you prefer.
Keto shrimp tacos: Serve sauteed shrimp in lettuce wraps for tortilla-free tacos. Add fresh tomatoes, avocado, cilantro, and lime juice to complete the dish.
Steak fajitas: Saute some bell peppers, onions, and steak (or your choice of protein) to serve on lettuce leaves. Add chopped avocado and salsa to complete the dish.
Cauliflower rice stir fry:

Cauliflower rice

is a low-carb alternative to white and brown rice, and it works great in a stir fry. Just swap regular rice out for cauliflower rice and add veggies like broccoli, cauliflower, carrots, snap peas, and green onions.
Greek salad with grilled chicken: Chicken salad makes an easy and delicious lunch or dinner. Simply toss mixed greens, cucumber, tomato, onion, and olives with grilled chicken, feta cheese, and vinaigrette.
Get Comfortable In the Kitchen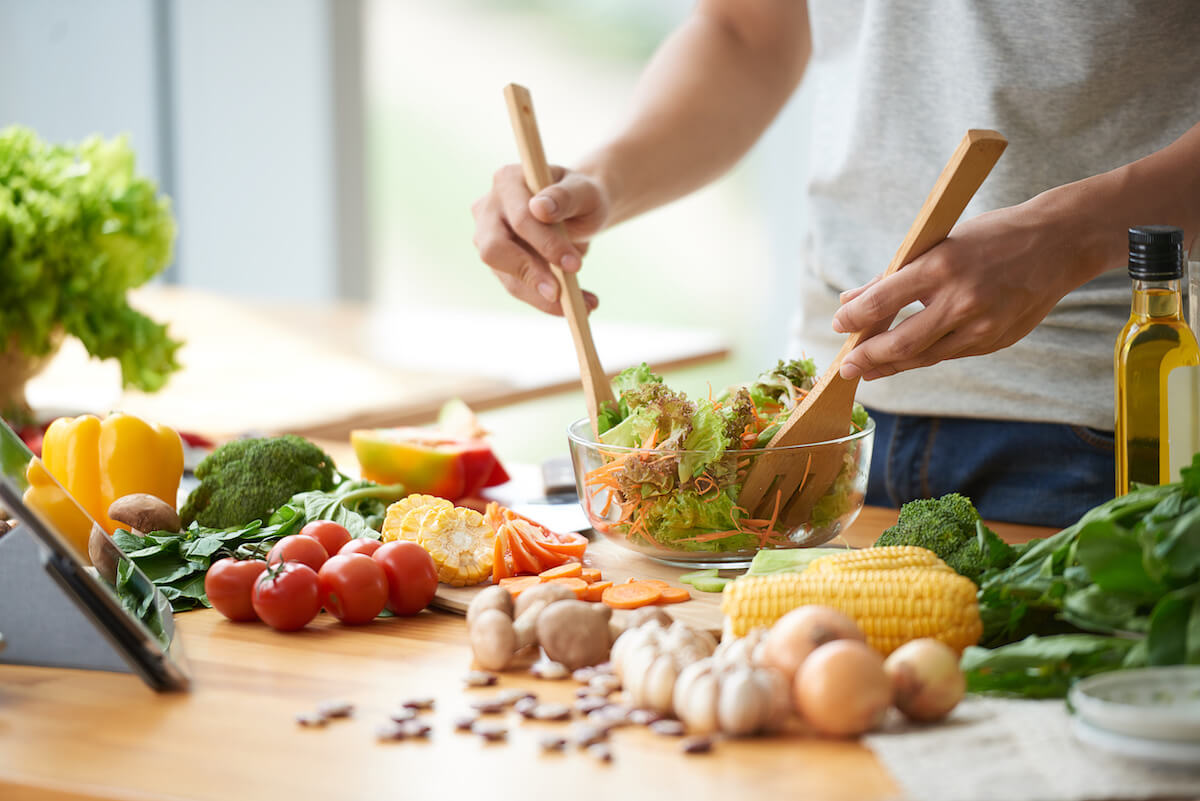 Eating a healthy diet often requires you to start preparing your own food, so it's time to get comfortable in the kitchen and find some go-to meals. Experiment with these healthy recipes and try making your own modifications by swapping out veggies and protein sources.
You'll find a collection of meals that appeal to your tastes and are easy for you to make. And remember, there's no need for fast food when you can make a protein shake or grab a pre-made meal at home.
Protein shakes are among the easiest high-protein, low-carb meals to have in your repertoire. Look for brands that use Ingredient Optimized sources to ensure you're getting the most from your supplements.